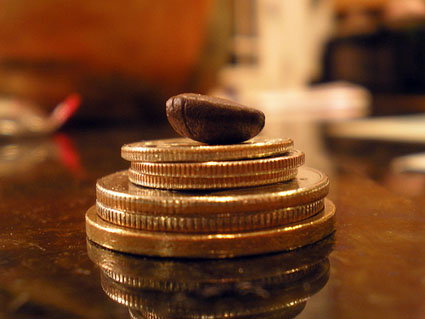 This is the third and final part of my interview with Brendan from Bucer's Coffeehouse Pub. It's mostly a topic grab-bag. Read on.
Matt: I'm amazed, it seems that Moscow is saturated in coffee. I was counting and there are 20+ places that you can get espresso in town, especially if you count the drive-throughs.
Brendan: Yeah. Did you hear about Dutch Brother's coming in?
Note: I later found out that this deal fell through. Dutch Brother's has some drive-throughs in the Spokane area. They wanted to put one in the vacant parking lot across the street from Otto's Produce. Apparently the city thought it would disrupt traffic too much and wouldn't let them do it.
M: A friend of mine works for the developer who built that office and retail space right there next to Otto's. He's in charge or getting people to rent spots there and he's always tearing his hair out. He can't get anybody to stay in there. I know he was really hoping to get Starbucks in there when it first opened.
B: It should be a good location.
M: You would think so.
B: You build a location like that and it's designed for auto-business, but Moscow really needs to develop these pedestrian zones better. I mean, it's not so pedestrian friendly because you have to cross that stupid state highway to get there. Those shopping centers would do better if you didn't have to cross highway 95 from downtown to get there. That would be another issue with where the Silos are now. Pedestian traffic will be hampered by that highway.
M: Silos is an odd case. They don't have any road access there. You have to drive around to where Tidyman's was and then come back. I think that's why people don't go there. They don't know it exists.
—
M: Do you have any plans for the future? Things to change, or do you want to just keep it going how it is?
B: I've realized since working here that it's not so much things to change, it's just more an issue of, we need to do some push-ups and sit-ups and get it back in shape. Some things like that. There's a lot of good atmosphere. A lot of it, I'm a slow glacial kind of thinker so before I change anything in here I want to run it for a year and make sure the light bulbs get changed when the burn out, stuff like that. Clean the corners out. Speed up service and quality. Make it more consistence. Bring some business back that we've lost due to various controversies and so on. Build on what's strong. As far as major changes, once I get to know the place better, then I'll know what changes what might need to be made.
—
M: Do you feel like the controversies have blown over since you were vandalized a few years ago?
Note: About 4 years ago, a rumor circulated town that Bucer's was refusing to serve gay customers. This was supposedly due to the owner's Christian faith. Shortly afterwards, the front window of the shop was vandalized in the middle of the night and a lot of racist/bigot/homophobe accusations were tossed in their direction.
B: There's probably some residual damages and attitudes from that, but there are some people that I'm seeing again that I haven't seen in a long time.
M: Even while all that was going on, I had friends from school that were gay that I would see in here, so maybe they just didn't get the memo or something.

B: We're a business. We offer a service to people. If you're money is green, we'll honor it.
M: Yeah, that's all pretty silly if you think about it. I thought it was sad that you were vandalized for those rumors though.
B: There were some disheartening things about that. I think enough of it has more or less blown over. It doesn't have to be a preoccupation anymore.
—
M: I remember asking Gary once if he did his own roasting so he could get the perfect blend and a sophisticated taste and he so, No! I do it because it's cheaper than buying good coffee from someone else!
B: Yeah, well it is cheaper. It also makes it possible to build another aspect of the business by selling bulk to offices and other customers. Gary might have said that, but I am after that great coffee. I want people to come here for the coffee. I want Moscow to be on the coffee map. I see it as something potentially… putting Moscow on the coffee map might bring some kind of benefit and blessing to the town, however small.
M: I think you're right.
B: I don't want to just hoard what we're doing. I'd like the community to receive some benefit and for us to benefit from the community in return of course.
Note: I guess this blog is contributing to putting Moscow on the "coffee map". Come visit!
Filed under: Bucer's Coffeehouse Pub, Business, Interviews on May 29th, 2008