My wife, recounting an outing from a few days ago…
On the north side of Moscow sits a store we have been visiting a LOT lately: Moscow Building Supply. You see, we're moving and remodeling at the same time. We have purchased a new-old house next to East City park, a quaint, perfect little cottage where we will be quite happy after one thing happens. We need to move the washer and dryer up out of the basement. To do this we have needed to tear out a Very Solid Wall, paint, putty, run plumbing, hook up electrical… all of the typical DIY stuff and my dad, bless his heart has been doing most of it. What does this have to do with coffee, you ask? Relax, I'm getting there. Dad has sent us to MBS repeatedly to pick up supplies for his endeavors, plus we have been getting garden supplies, shelving and all sorts of goodies to set up our new place. Yes, I do have a coffee-related point. Don't quit reading yet.
Across the street from MBS on the road out of town towards Coeur d'Alene sits a Java shack. It goes by the wittily clever (read with extensive sarcasm) name of Double Shot Espresso, only when we asked the Barista, it turns out only 16 or 20 ounce drinks actually come with a double shot.
Of course one one of our many trips to MBS we had to try it out, just because we had never been there before. My review written here is based on the exhaustive research, quantitative study and scientifically tallied results of that one trip. The first plus was that there was no line. Well, there is never a line at 4:00 PM in any coffee place. The lines happen at 7:30 AM. So we were able to drive up and place our order right away. Second positive: they have a trivia question. I LOVE Java shacks with trivia questions because if I answer it and get it right (usually by sheer dumb luck) then not only do I feel smart but I save myself enough cash to buy a whole gum ball when I next go to the mall. All Java shacks and coffee shops ought to have a trivia question. I think only Botticelli's does.
Anyway, we ordered our drinks, a white mocha for me, a plain latte for Hubby, the Coffee Snob and a steamed milk for our three-year-old daughter, the Coffee Snob In Training. The Barista took the usual amount of time making our drinks. Hubby probably timed her shots but he didn't say anything so I guess they fell within acceptable parameters. She steamed the milk to the temperature of volcanic lava, which would have been okay except that when she handed the mocha to Hubby she popped the lid off and spilled it all over the side of our car. Luckily she had some more lava-milk, so she just added it to the remainder in the cup stuck on a new lid and out it came. Whew! Wouldn't want to waste that milk.
I have to say, I realize some people like their coffee to scald their tastebuds off their tongues, but I am not one of those people. I let my cup of coffee sit in the cupholder of my car through an entire trip to the grocery store before it was cool enough to drink. The first time I picked it up, the lid popped off again, spilling slightly-less-scalding-hot milk on my lap and the gearshift of the car. Oops.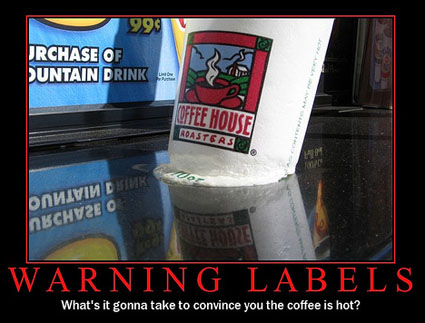 Finally I got that doomed coffee to my lips. I'd give the quality a 5 out of 10. Typical Java shack fare. Definitely nothing to write home about. So if you're headed to Coeur d'Alene, stop for a cuppa joe and bring plenty of paper towels along. You never know, you might need them!
Filed under: Drivethroughs, Guest Posts on May 14th, 2008