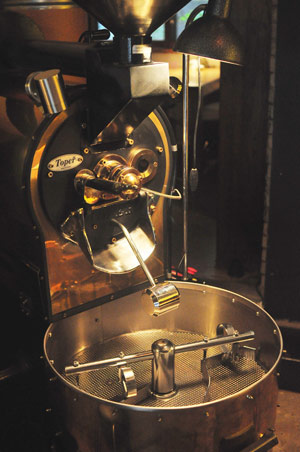 Sometimes, while I am in the shop, but not roasting, I hear people comment about the machine as they walk past it.
Last week I heard it described as a "strange giant machine" and another girl told her friend it was "some sort of brewery thing". Most accurate was a boy of eight who told me it looked like a steam engine.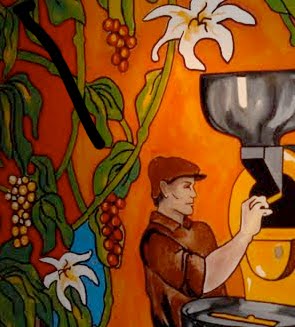 Much funnier though was a comment my wife overheard while sitting near the coffee mural near the back of Bucer's. Two girls were talking about the painting and discussing what the fruit was. One girl said, "They look like cherries, but I know they're really grapes".
Um, actually, they are coffee beans. No really. That's what the whole painting is about. There are coffee beans on the tree, some being picked by a lady, then in bags, then roasting, and then in a steaming cup. It's coffee. It's a mural in a coffee shop. You're drinking it right now.
Filed under: Uncategorized on November 24th, 2011