Taking a tactic from Techcruch (which follows young internet companies) I am creating a "deadpool". That's where area coffee shops go when they can't cut the mustard, for whatever reason. Our most recent establishment to return to the big coffee-grinder in the sky is Moxie Java.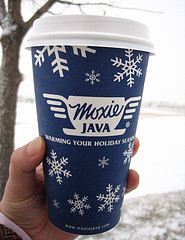 Moxie Java is a small franchise. Most of its shops are in southern Idaho. A young business student opened one up here a little over a year ago. The University of Idaho's Argonaut paper has a detailed article on the closure. Here's an excerpt:
The news had broken earlier that morning, Feb. 1, when owner Tim Reichstein's lawyers entered the shop, saying the store was closed for good and the employees had a half-hour to close.
Weigand didn't expect to hear the news that day, but had seen it coming for a while.
"It was a long time coming," he said. "(Reichstein) wasn't paying (state) taxes. There were a number of times when the tax commission came to seize the money we made in a day."
Financial problems weren't the only factors leading to the coffee shop's closure.
"There was poor management," Weigand said. "We always ran out of things so we'd have to close early. And that shook customer confidence."
They had the closest location to campus, a drive-through, and lots of new fixtures. What gives? I went there once shortly after they opened and had a bad cup. I chalked it up to a brand-new barista though. I had a couple friends that swore by the place and visited it every morning so it couldn't have been too bad. I guess it shows that to make it in coffee you absolutely MUST run a tight ship.
UPDATE: The Pita Pit is moving into the old Moxie location since their old location was gutted by a fire over the summer. This location should be a good fit.
Filed under: Gone forever on September 28th, 2007