Starbuck's latest gimmick is their Pike's Place Roast. It's a lighter, smoother drip coffee that is guaranteed to be brewed fresh every 30 minutes. They also put up the date and location where the current batch was roasted at. It's never supposed to be more than a few weeks old. The batch I had a few days ago (April 10), was apparently roasted in Kent, Washington on March 23.
Now, all of this sounds like a great idea. I've mentioned before that I am wary of Starbuck's drip coffee because they rotate the roast and blend on a pretty random basis. Sometimes it's OK, sometimes it's vile. This whole idea of having a consistent, fresh, lighter roast drip available came from gathering thousands of comments on their new social networking website. I actually submitted a suggestion along these line myself.
Unfortunately, those who hope for delightful flavored drip coffee will be disappointed. The reason is that in kingdom of Starbucks, coffee is roasted dark. Mild roasts are actually dark. Medium roasts are really dark. French roasts are charred. Take a close look at this photograph. On top is a mild roast from Zoka in Seattle. On the bottom is the new Pike's Place Roast. Remember that the Pike's Place Roast is what Starbucks calls a mild to medium roast.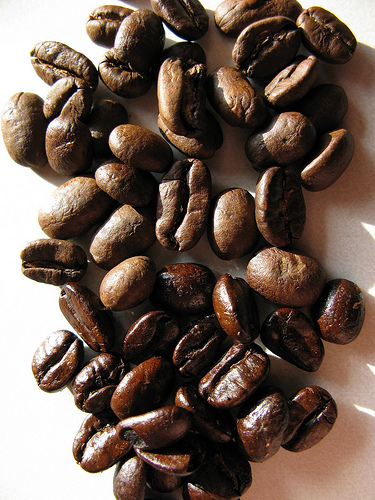 See the shininess on the bottom? Those beans have been in the oven a loooooong time. Not a complete loss, but yet again, most of what constitutes a delicious cup has been traded for a longer shelf-life. Apparently the brewing of mild roast coffee in thousands of stores before it goes bad is still a serious logistical problem. Either that or the roast-master at the very top believe coffee should only be black and never brown! Oh well. Good thing there are lots of other options around this town.
Filed under: Roasting, Starbucks, Uncategorized on April 16th, 2008