I have tried (and failed) many times over the years to produce an excellent cup of coffee at home. I've tried various drip brewers, many different timings and ratios with a French press, and at least a hundred attempts with an Italian moka pot, including the Brikka, which includes a pressurized cap. That one actually made some good tasting stuff – about 15% of the time. Arg! For several years I had given up. Only the espresso at the shop was good enough to drink.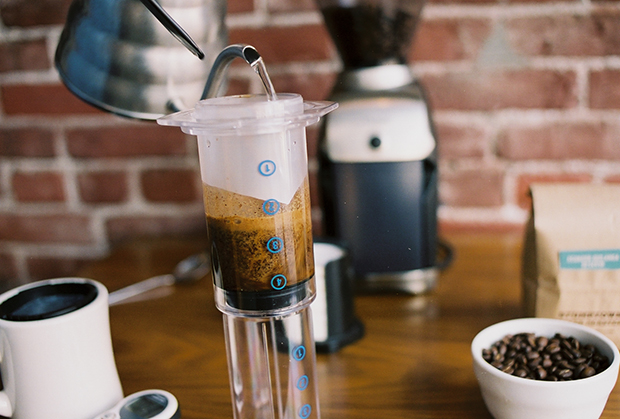 Ah, but no more. This past year I picked up an Aeropress. This is it! It's simple to use, easy to clean (very important!) and CONSISTENTLY produces are really great-tasting cup, bringing out the nuances of the bean lot. I can't recommend it highly enough and at only $30, it's the best piece of brew gear to be had anywhere for under a thousand. For a couple years, some friends have been telling me to get one. I should have listened to them earlier.
The exact brewing method is up for debate, but the instructions on the Stumptown website here are pretty good. For maximum effectiveness, you are going to need a quick-read digital thermometer and, of course, a burr-grinder. I have found through many brewings that if I try to guess on the water temperature, it doesn't turn out near as well. My thermometer was out of batteries for a couple weeks recently and everything went south. Do yourself a favor and get one of these for the bean lover in your life – perhaps even yourself.
Filed under: Uncategorized on February 15th, 2013