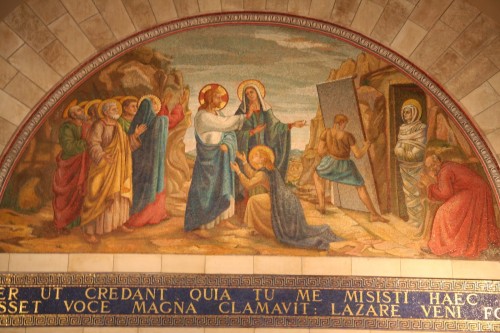 We've spent quite a few months here working through the gospel of John and today's passage in John 11 has a lot of interesting things going on. We'll only have time to touch upon a few of them though. First, a bit of background leading up to today.
Unlike the other three gospel accounts, (Matthew, Mark, and Luke), the gospel of John is not strictly chronological. He, the author, John, had an agenda. He had several key points about Jesus that he wanted to emphasize and drive home to his readers. We believe that this wasn't just part of a personal style or individual way of thinking, but something inspired by the Holy Spirit, God himself, when John wrote this all down in the mid first century.
Near the end of the book, John makes this aside:
"Therefore many other signs Jesus also performed in the presence of the disciples, which are not written in this book; but these have been written so that you may believe that Jesus is the Christ, the Son of God; and that believing you may have life in His name."

(John 20:30-31)
So he is telling us that there are many volumes worth of things he COULD have told us about Jesus. John was, after all, with him during his entire earthly ministry and even took care of Mary after Jesus was gone. He could have written much more than 20 short chapters, but he didn't, and he told us he didn't because his curated collection is enough to help us understand who Jesus really was – the Son of God. He also makes reference to "signs", and that is how most people studying this gospel throughout the centuries have organized their reading.
Let's take a quick look at these signs:
1. Turning water into wine, John 2:1-12

2. Healing the royal official's son, John 4:46-54

3. Healing the paralytic at the Bethesda pool, John 5:1-17

4. Feeding the five thousand, John 6:1-14

5. Walking on water, John 6:15-25

6. Healing the man born blind, John 9:1-41
And finally, the last and greatest one (in some regards):
7. Raising Lazarus from the dead, John 11:1-46
Now, even though Jesus did many miracles, he often tried to keep a low profile. He didn't advertise what he was doing and he would often disappear when the village started to get excited. As far as we can tell, he wanted to stay under the radar of the religious leaders (who didn't like unorthodox competition) and the Romans, who were a bit jumpy about revolutionary leaders destabilizing the country. Jesus knew that he would have to die, but he must have had in mind a number of things he wanted to accomplish before the time was ripe.
With the resurrection of Lazarus, which we'll read in a minute, he didn't try to hide anything. In fact, Jesus even narrates out loud some of what is going on to make sure all the people around him understand his intentions. The time for the Passion, for his death and resurrection, is coming up soon and so he begins to pull out all the stops.
Now let's take a look at the scripture. I love these long narrative passages. They stand up pretty well on their own and don't need to be wrapped up in much of a sermon!
The passage: John 11:1-46 (ESV)
            Now a certain man was ill, Lazarus of Bethany, the village of Mary and her sister Martha. It was Mary who anointed the Lord with ointment and wiped his feet with her hair, whose brother Lazarus was ill. So the sisters sent to him, saying, "Lord, he whom you love is ill." But when Jesus heard it he said, "This illness does not lead to death. It is for the glory of God, so that the Son of God may be glorified through it."

Now Jesus loved Martha and her sister and Lazarus. So, when he heard that Lazarus was ill, he stayed two days longer in the place where he was. Then after this he said to the disciples, "Let us go to Judea again." The disciples said to him, "Rabbi, the Jews were just now seeking to stone you, and are you going there again?" Jesus answered, "Are there not twelve hours in the day? If anyone walks in the day, he does not stumble, because he sees the light of this world. But if anyone walks in the night, he stumbles, because the light is not in him." After saying these things, he said to them, "Our friend Lazarus has fallen asleep, but I go to awaken him." The disciples said to him, "Lord, if he has fallen asleep, he will recover." Now Jesus had spoken of his death, but they thought that he meant taking rest in sleep. Then Jesus told them plainly, "Lazarus has died, and for your sake I am glad that I was not there, so that you may believe. But let us go to him." So Thomas, called the Twin, said to his fellow disciples, "Let us also go, that we may die with him."

Now when Jesus came, he found that Lazarus had already been in the tomb four days. Bethany was near Jerusalem, about two miles off, and many of the Jews had come to Martha and Mary to console them concerning their brother. So when Martha heard that Jesus was coming, she went and met him, but Mary remained seated in the house. Martha said to Jesus, "Lord, if you had been here, my brother would not have died. But even now I know that whatever you ask from God, God will give you." Jesus said to her, "Your brother will rise again." Martha said to him, "I know that he will rise again in the resurrection on the last day." Jesus said to her, "I am the resurrection and the life. Whoever believes in me, though he die, yet shall he live, and everyone who lives and believes in me shall never die. Do you believe this?" She said to him, "Yes, Lord; I believe that you are the Christ, the Son of God, who is coming into the world."

When she had said this, she went and called her sister Mary, saying in private, "The Teacher is here and is calling for you." And when she heard it, she rose quickly and went to him. Now Jesus had not yet come into the village, but was still in the place where Martha had met him. When the Jews who were with her in the house, consoling her, saw Mary rise quickly and go out, they followed her, supposing that she was going to the tomb to weep there. Now when Mary came to where Jesus was and saw him, she fell at his feet, saying to him, "Lord, if you had been here, my brother would not have died." When Jesus saw her weeping, and the Jews who had come with her also weeping, he was deeply moved in his spirit and greatly troubled. And he said, "Where have you laid him?" They said to him, "Lord, come and see." Jesus wept. So the Jews said, "See how he loved him!" But some of them said, "Could not he who opened the eyes of the blind man also have kept this man from dying?"

Then Jesus, deeply moved again, came to the tomb. It was a cave, and a stone lay against it. Jesus said, "Take away the stone." Martha, the sister of the dead man, said to him, "Lord, by this time there will be an odor, for he has been dead four days." Jesus said to her, "Did I not tell you that if you believed you would see the glory of God?" So they took away the stone. And Jesus lifted up his eyes and said, "Father, I thank you that you have heard me. I knew that you always hear me, but I said this on account of the people standing around, that they may believe that you sent me." When he had said these things, he cried out with a loud voice, "Lazarus, come out." The man who had died came out, his hands and feet bound with linen strips, and his face wrapped with a cloth. Jesus said to them, "Unbind him, and let him go."