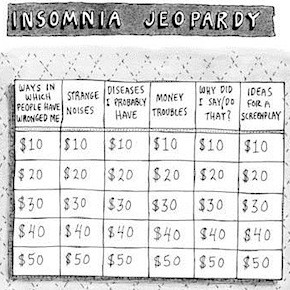 A couple weeks ago I wrote a bit about Sia, who is clearly a master of the songwriting conventions this decade of pop music demands. On the third single from her recent album, she sings in anguish:
I'm at home
On my own
Check my phone
Nothing, though
Act busy
Order in
Pay TV
It's agony

I may cry, ruining my makeup
Wash away all the things you've taken
I don't care if I don't look pretty
Big girls cry when their hearts are breaking
Big girls cry when their hearts are breaking
Big girls cry when their heart is breaking
The poor are frequently envious of the rich for their ease of living and luxurious material possessions. They often scoff at the complaints of the wealthy. The women in this song is "stuck" at home, surround by custom delivered food, expensive pay-per-view television, and her iPhone 6+ phablet. Later in the song we hear about the private jets and campaign she keeps for company. But what's her current state? Agony.
In a way, the agony of the rich can be even greater than that of the poor. They have the added pressure of feeling as if they SHOULD be happy and thankful. When the poor feel like crap, it makes more sense. Psychologically they have a much easier time processing their misery. Their lack of food, stability, warmth, and medicine makes for a completely plausible source of despair. The rich on the other hand, still feel like total crap, but have the additional dissonance of being surrounded by everything they could ever want – maybe even plenty of friends. So what the heck is wrong? "Why is a broken heart so damn terrible?" they wonder. But of course, it is.
I think the net stress and existential angst of the rich and poor ends up being about equal. It just takes different forms. If anything, the value we place on money and wealth today serves to further aggravate the poor (offering them a false hope) while being especially maddening to the rich. Wherever we personally are on this continuum (middle America, etc.) we end up experiencing an equalizing mix of both.
In what direction lies a cure? To that end, I offer this quote a friend of mine recently posted from St. John Chrysostom:
The sins of the rich, such as greed and selfishness, are obvious for all to see. The sins of the poor are less conspicuous, yet equally corrosive of the soul. Some poor people are tempted to envy the rich; indeed this is a form of vicarious greed, because the poor person wanting great wealth is in spirit no different from the rich person amassing great wealth. Many poor people are gripped by fear: their hearts are caught in a chain of anxiety, worrying whether they will have food on their plates tomorrow or clothes on their backs. Some poor people are constantly formulating in their minds devious plans to cheat the rich to obtain their Wealth; this is no different in spirit from the rich making plans to exploit the poor by paying low wages. The art of being poor is to trust in God for everything, to demand nothing-and to be grateful for all that is given.
(On Living Simply, Homily 7)
(A clarification: I am not arguing here that the rich DON'T have it better off than the poor. In many respects they certainly do.  What I am saying is that frequently the rich do not legitimately FEEL better off, because of complicated circumstances, and paradoxically, sometimes FEEL even worse.)