This spring I've been playing Theseus in a local community theatre production of Shakespeare's A Midsummer Night's Dream that my wife is helping direct. I've been involved in shows before but it's always been from the orchestra pit and this is my first time acting or trying to memorize lines. It's also only about my third brush with Shakespeare in general so there has been a lot to learn and discover. Along the way, I've been reading Rene Girard's literary analysis of the play that is found in his book A Theater of Envy.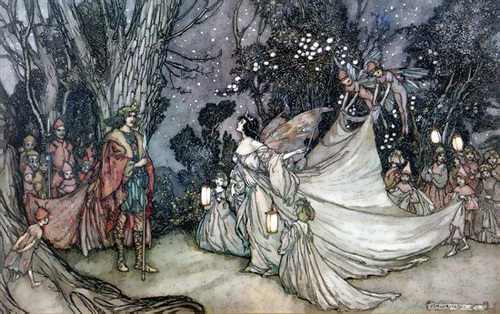 Girard devotes no fewer than six chapters to A Midsummer Night's Dream, making it a favorite topic. I'm still a fan of Girard even though he suffers from a severe case of "when you have a hammer everything looks like a nail" syndrome with regards to his theory of mimetic desire. The bulk of his explanation sees the fairies in the play as a mythical projection of the escalating rivalries between the two sets of lovers – a hallucination to mask and offer a softer explanation of reality.
I was really surprised to discover though that nowhere does he address Theseus's line when discovering the reconciled lovers asleep in the forest in Act 4:1. When I began rehearsing the play, this passage struck me as the most obviously "Girardian" of the entire work. Upon discovering the men Demetrius and Lysander sleeping peacefully next to each other with their lovers, the Duke of Athens remarks:
I know you two are rival enemies.
How comes this gentle concord in the world,
that hatred is so far from jealousy,
to sleep by hate and fear no enmity?
The climax of the play really begins when the fairy Puck sorts out the misapplied love potions in the scene right before this one, and it become fully real a moment later when the duke announces the wedding of the two couples. But here is when explicit light is shed on what just happened.
And what DID just happen? Two people hated each other. They fought over the same women, then forgot the woman and just sought to kill each other. The women, in parallel, dropped their friendship and became jealous and deeply angry at each other. But then POOF! – it's all fixed. Later, allusions to how it could have gone abound. The offered entertainment for the wedding night includes "The Battle of the Centaurs" and "The riot of the tipsy Bacchanals, tearing the Thracian singer in their rage" which both end it violent resolutions. Instead, Puck has led the warring rivals astray and cast them into deep sleep. There, sleeping without fear, their jealousy and hatred dissolves.
I think this can quite accurately be called a eucatastrophe, a term coined by Tolkien to describe some sudden cataclysmic good happening. The thing to notice here is that eucatastrophe doesn't come from within ourselves. We're a hopeless lot of jealous haters and dysfunctional lovers, despite our occasional virtuous intentions. We can't save ourselves – not with our own cleverness or hard work or ordered thinking. No, we need an OUTSIDE power to intervene in our lives and set things right "by might, not merit". The incarnation of Christ is such an injection of light from outside into the dark world. The resurrection of Christ is the explosion of that same disease-and-death-reversing light.
If there is one way I'd like most to tweak Girard's general theory, it's that I would like him to stop seeing sacrificial violence under every bush. Yes, it IS often there of course and it's wise for us to realize that, but there may be something else instead. There may be the resurrection of Jesus, or at least an allusion to it under that same bush. As Tolkien said (in the voice of Gandalf), 'There are other forces at work in this world, Frodo, besides the will of evil.' Cannot the Holy Spirit also (quite miraculously) erase our rivalry as well? I think so and I'd like to be able to discern it when he does.