A couple months ago, we received a visit from Emmanuel Sitaki Kayinamura, a native of Rwanda who survived the 1994 genocide there (though much of his family did not). He was in the states raising money for the Christian ministry he operates there that supports widows and orphans. You can read more about it at www.ermrwanda.org.
He bought with him, in his suitcase, about 25 pounds of green coffee from a farming cooperative near by his village in Kigoma. I roasted it up at the shop and we sold it around Christmas time as a special batch with the money going to his organization. It was exciting to get my hands on some pretty high-grade stuff that is not available from any of the warehouses I have access too. It was a bright red bourbon. Not complex. A very straight-forward coffee, but top-notch. Hopefully he will visit with some more next year!
—
My youngest brother also spent a couple of months recently in Guatemala, where a terrible rust is devastating their coffee harvest. Sad times. While he was there though, he picked up a bag of some locally produced and roasted coffee for me. This stuff wasn't very high-grade, but it was fun to try anyway. It's nice to see the locals breaking out their roasters, foil bags, and inkjet printers and making a lot more money than they would selling everything green to the middlemen.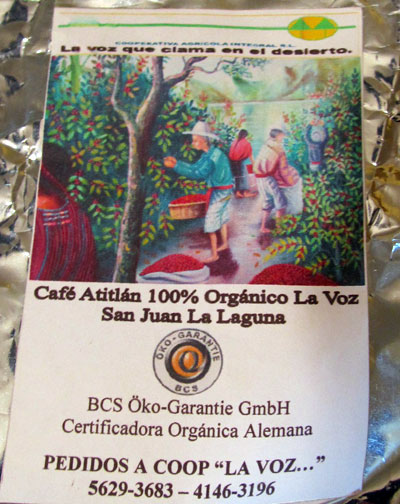 Filed under: Uncategorized on February 17th, 2013