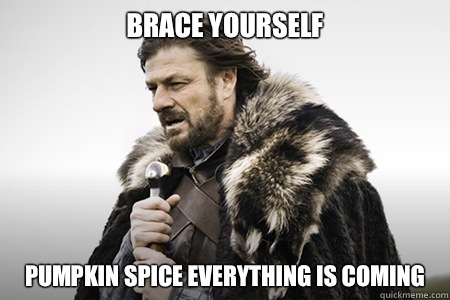 It seems that the orange seasonal pumpkin spice latte has been the butt of many jokes this year. I've seen it referenced in a derogatory fashion by just about everyone these days. This is also the first year when we have really seen just about every national chain do their best to imitate Starbuck's bestseller for 10 years running.
This piece from Thrillist does a great job reviewing and trash-talking all the latest offerings of this food-chemistry masterpiece. For example, it's description of the new Caribou pumpkin spice latte is as follows:
On a scale of 1 to pumpkin, this tastes like -4 pumpkins. It tastes like broken dreams covered in sugar and white chocolate. When your grandkids are born, they too will have memories of the waking terror you encountered when sipping this hot travesty.
My recommendation? You should try at least one of these every October just to remind yourself what the big deal is (or isn't).
Bonus points if you drink it with a pumpkin muffin and then later in the evening drink pumpkin beer and carve jack-o-lanterns.
Lose points if you become aware that a lot of pumpkin puree is made from other kinds of squash.
Filed under: Uncategorized on October 23rd, 2013